What To Do After 12th? High Paying Careers You Can Choose From
The real race begins after your class 12th exams are finally over. Even while you were preparing for your exams, the thoughts of 'what next' might have kept clouding your mind with different ideas. It's time to put these thoughts and concerns regarding your future to an end and figure out your next move with some strategic planning.
Now you must be thinking 'how do I really do that?'. Well, the answer is simple, by considering the best options available in the job market right now and understanding where your interests lie. To begin with, this process, let's find out the best courses after the 12th.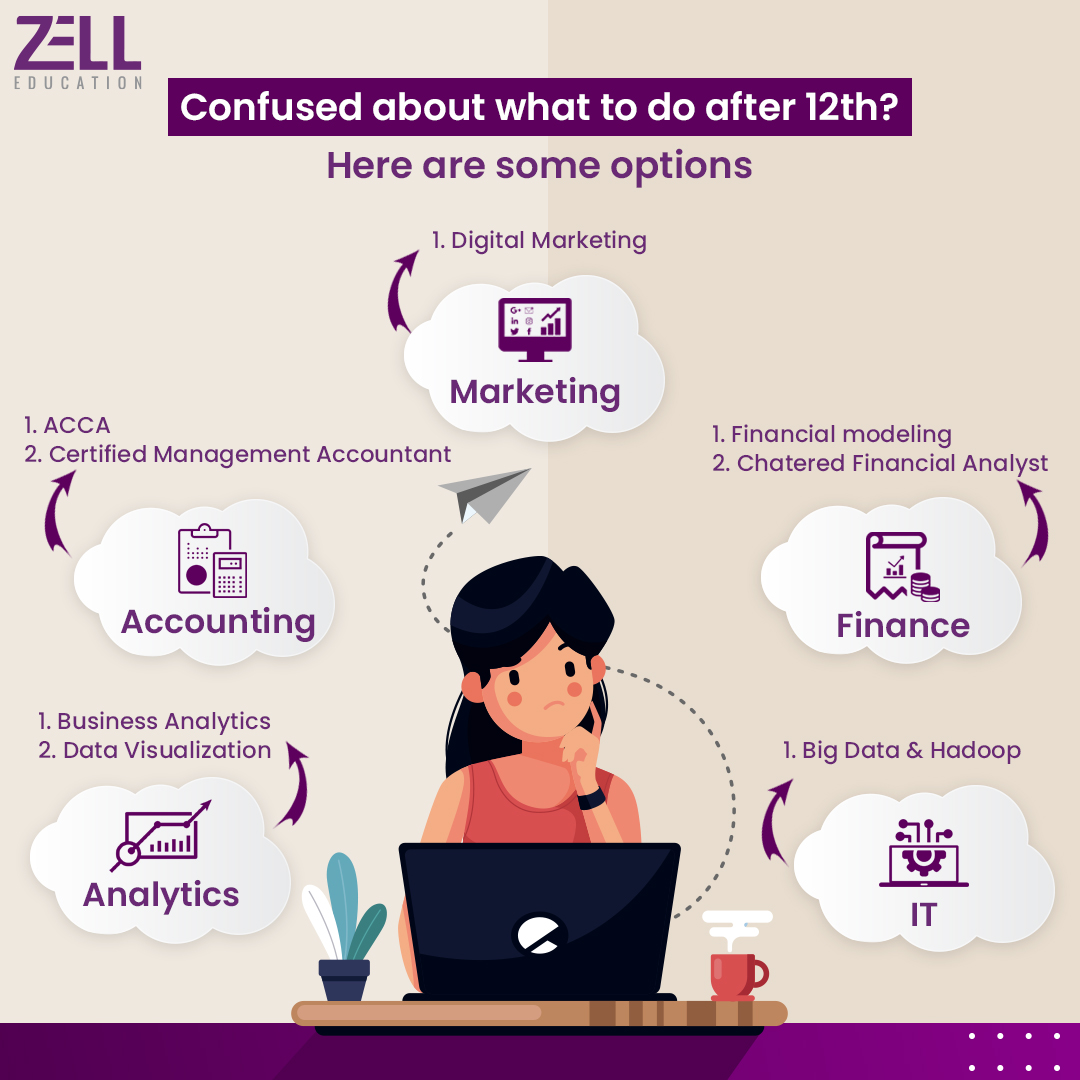 How to select your career pathway after class 12th?
Gone are the days when higher education just meant medical, engineering, or management. With the fast growth and numerous positions available, taking up specialisation courses while pursuing a bachelor level education gives you a huge advantage.
Career options after 12th for Science Students
As a Science student, instead of choosing the regular B.Sc, you can go for job oriented courses like –
1. B. Tech or BE

One of the most popular courses after 12th std among students in engineering. The Bachelor of Technology degree (B.Tech) is quite similar to the Bachelor of Engineering (BE) degree in India. Both of these degrees pertain to the field of engineering.
The key difference between them is that the B.Tech course focuses more on skill-oriented learning whereas BE focuses on theoretical knowledge.
2. Data Science

A Data Scientist is a professional who performs advanced analysis of data by cleansing, manipulating and aggregating data. They provide more structure to such data by using scientific methods, processes, and algorithms. In the past few years, there has been a massive increase in the number of data science jobs in India.
There are also several data science courses that can be taken by students who have studied science, technology, engineering, or mathematics.
3. Architecture
Bachelor Of Architecture (B.Arch) is one of the most high-paying and exciting careers to go for if you are an innovative person and are passionate about aesthetic design and art. You need to have studied Mathematics and English during your 12th grade and may be required to give entrance exams like NATA or GATE.
After completing your architecture course, you can either work in an architect's firm or start your own consultancy.
Career options after 12th for Commerce Students
For a commerce student, you can consider many exciting options from finance to banking that offer global career growth. If you're wondering what to do after the 12th in commerce, here are some of the best options
1. ACCA
ACCA or Association of Chartered Certified Accountants is a globally renowned and acknowledged organization, which offers an internationally recognizable certification. Consisting of 13 subject exams (divided into 3 levels), this certification can be received after clearing all the exams and completing 3 years of work experience.
Companies such as the Big 4 – KPMG, Deloitte, PwC, EY, and other MNCs such as Grant Thornton, BDO, etc. are all hiring workers with successful ACCA certificate holders. Most of these companies consider ACCA as equivalent to CA in terms of profile, salary, designation, etc.
You can start working towards getting your ACCA certification right after the completion of Grade 12. Zell Education actually has an excellent ACCA Course for students that are interested in the course. Zell is a Platinum Approved Learning Partners of ACCA and can offer exclusive benefits to Zell students including flexible batches and exemption fee waivers.

2. CMA

The US CMA course is gaining a lot of popularity in the field of finance and accounts over the past few years. The best part about pursuing US CMA is the eligibility. Students can start studying for CMA after the 12th grade pass out.To be certified as a CMA, you will need a Bachelor's degree, completion of the CMA papers and 2 years of work experience.

The CMA course can be completed by giving just two examinations. These exams can be given between January to February, May to June and September to October. With the right amount of preparation, the CMA course can be easily completed within 6 to 9 months.
CMA qualified professionals may be hired in the Big 4 (KPMG, Deloitte, PwC, and EY) as well as other reputed companies like Anand Rathi, Accenture, Motilal Oswal, Morgan Stanley and BDO. If you are interested in pursuing a career in accounting, check out our Certified Management Accountant (CMA) course.
3. CFA
If you want to select finance as your core field, another alternative is CFA Course. CFA or Chartered Financial Analyst works in wealth management, corporate finance, credit analysis, or investment banking. You can enrol in this internationally recognized course after receiving your bachelor's degree.
This 3-year course will ensure that you get practical training with theoretical knowledge. CFA is divided into 3 levels, each comprising 10 subjects. With the help of our experienced & expert faculty, we ensure that you are fully equipped to apply the knowledge in real life.
Widely recognised and sought after, the CFA candidates are recruited by the time you complete the Level 1 examinations. International companies such as JP Morgan, Goldman Sachs, Morgan Stanley, Citibank, and Indian firms such as Motilal Oswal, Anand Rathi, etc, hire CFAs at all levels.
If you have only completed your 12th grade but would still like to plan ahead for CFA, we can help you out. Check out our Certified Financial Analyst Course or reach out to us for any queries.

Career options after 12th for Arts Students
As an Arts student, if you want to take up a professional course right after class 12th, you can go for some of these exciting courses available online as well as offline –
1. Fashion Design

If you are someone who is passionate about art and loves to design new outfits and clothes, fashion designing might be the right course for you. It is an undergraduate program that focuses on designing clothes and their manufacturing processes. In the field of fashion designing, you can eventually venture into designing clothing, footwear, jewellery as well as designing patterns for fabrics.
Some of the best institutes in India for Fashion Designing are the National Institute of Fashion Technology, Amity School of Fashion Technology, Symbiosis Institute of Design and Vogue Institute of Fashion Technology.
2. Mass Media

With the growth of digital marketing and the mass media industry, there is now an increase in demand for professionals who are qualified to work with mass media. Whether it is to work with newspapers, online blogs and publications or social media, the demand for journalists, news reporters and writers has definitely increased in the past few years.
After completing your 12th grade, pursuing your undergraduate degree in courses such as Journalism, Mass Media, Media Technology, etc, can be extremely beneficial in helping you start a career in mass media.
3. Graphic Design
Every organisation or brand will always have creative requirements such as logos, infographics and banners that need to be designed. Especially with the growth of digital marketing, a lot of importance is being placed on the aesthetic image of a brand.
As a result, Graphics Designers are being hired on a very large scale in India. If you are someone with an inclination towards designing and art, you should definitely consider pursuing graphic design. There are several courses after the 12th that can be pursued in order to become a graphic designer. Some of them include BA in Graphic Design, BA (Hons) in Graphic Communication Design, BA in Graphic Design and Visual Communication and BA in Graphic Design: Advertising and Branding.
Finishing your 12th grade can be a liberating experience. If you have completed your 12th grade in commerce and would like some guidance in planning out your career, we recommend reaching out to experts at Zell Education to get tailored solutions for your needs. You can also check out all the courses on Zell Education's website.
Which course after 12th in commerce offers the highest salary?
For those planning to make a career in accounting, ACCA offers great global opportunities and attractive salary packages. However, if finance is where your interest lies, becoming a Chartered Financial Analyst will help you achieve a high salary package.
What are some of the high paying government jobs after class 12th?
You can consider working for the National Defence, Indian Army, Railway Recruitment Board, SSC Supervision Staff, and Border Security Force. Make sure to research these professions to know in case of any additional examinations you need to appear for.
Which Indian job offers the highest salary?
Becoming an Investment Banker, Data Scientist, CA, Doctor/Surgeon, or Commercial Pilot in India would help you get a good salary package in India.