US CMA Course Benefits: 7 Career Reasons for Doing CMA
Certified Management Accountant (US CMA) is a management accounting qualification awarded by the Institue of Management Accountants (IMA). This US-based qualification helps improve your skills in financial accounting and strategic business management. In the last few years or so, the demand for this course has increased rapidly in India as well as across the world.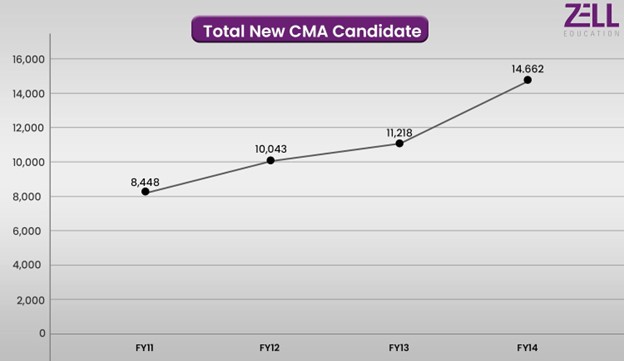 If you are interested in the business side of accounting and finance, then US CMA is definitely worth considering.
Eligibility Criteria for US CMA
Students can start studying for CMA after completing 12th grade. To be certified as a CMA, you will need a Bachelor's degree, completion of the CMA Part 1 and Part 2 along with 2 years of work experience.
Top 10 Benefits of doing US CMA
1. Better salary/high salary

The US CMA qualification allows you to work in Indian as well as International companies which alone increases your earning potential. As a US CMA, you will be able to demand a higher salary than someone with a regular bachelor's degree. So if you are largely interested in the business side of accounting and finance, then US CMA is the right choice for you. It will help you land high paying jobs right from the start. As a US CMA, you can expect a pay scale of anywhere between INR 5 to 7 lpa.

2. More career opportunities
A qualification like US CMA can help you explore better career opportunities than your regular high-school diploma or graduation degree. With the US CMA qualification, you may get hired in some of the most important management roles in companies like Hewlett-Packard, Bank of America, Capgemini, and the Big 4 (KPMG, Deloitte, EY and PwC). You will be able to explore job profiles like Cost Accountant, Financial Manager, Staff Accountant, and Treasurer.
3. Ability to Work Abroad

One of the biggest advantages of pursuing US CMA is that you can explore job opportunities not only in India but also in countries such as the US, Canada, Australia, New Zealand and different parts of Europe. If you are eventually aiming to expand your career overseas, it is important to pursue a qualification that will be accepted in your desired country. A big reason behind the recent surge in the number of US CMA applicants is the opportunities one can achieve to work abroad.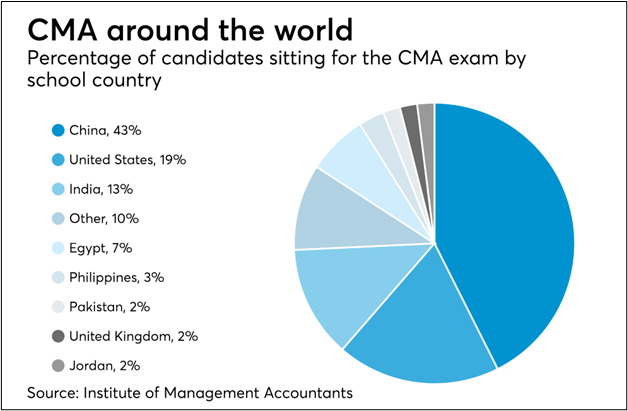 4. It is a relatively short course

The US CMA course consists of two parts. Each part consists of 6 modules. Each of these two exams can be in the months of Jan-Feb, May-June and Sept-Oct. Overall, the US CMA course can be completed in 6 to 9 months at the most. So within a year, you will be able to work as a management accountant.
5. Its the doorway to management accounting
US CMA as a course combines the knowledge of accounting and finance with a deep understanding of management strategies. So if you want to explore a career in business management with a strong focus on accounting and finance, then US CMA might be a great option to choose. With management accounting, you could also expect to get promoted to higher management positions in the future and might even become the CFO of a company with the right amount of skill and experience.
6. It is a great option to pursue after 12th grade
After completing your 12th grade, there are only a few professional courses that you can pursue, which include the US CMA course. While the US CMA certification requires you to have a bachelor's degree, you are eligible for the exams after completing your grade 12 exam. Other globally recognised courses that you can pursue after 12th grade include ACCA, CA and FRM.
7. Work with some of the most reputed companies
There are numerous companies in India and across the world that are actively looking to hire US CMAs in management accounting positions. Not only can you work with accounting and finance companies like the Big 4 (KPMG, EY, PwC, and Deloitte), BDO, J. P. Morgan, Morgan Stanley and Blackstone, as well as commercial companies like Apple, Google, and Accenture.
Who should pursue US CMA?
Students who have recently completed 12th grade:

If you have recently cleared your 12th grade and are unsure of whether you would be better suited for a career in finance or accounting, then pursuing US CMA might help you make the right decision. The US CMA consists of two papers where Part 1 deals with Accounting and Part 2 deals with Finance. So upon completion of the US CMA, you will have a clear understanding of both subjects so that you can make an informed decision of which field you would prefer to work in.

Post-graduate candidates looking for an upgrade in their career:

If you have completed your post-graduation and you plan on working in the field of finance and accounts, a professional qualification can be quite helpful in increasing your chances of being hired at higher positions in reputed companies like the Big 4 (KPMG, Deloitte, EY and PwC). A professional qualification such as a US CMA, which can be completed in 6 to 9 months, can help you spruce up your resume without taking too much of your time.
The Certified Management Accountant (US CMA) is a credential awarded by the Institute for Management Accountants, USA provides training in a combination of US GAAP and IFRS as well as the difference between the two. This global certification is open to all students who have completed their 10+2 or the high school equivalent. If you are interested in pursuing a career in accounting, check out our Certified Management Accountant (CMA) course.
Where are the US CMA exams held?
The exams are held in 8 Prometric centres across India. The exams are closely proctored, with candidates not being allowed to carry any items not necessary for the exam to the centre. The exams are held in Mumbai, Ahmedabad, Bangalore, Calcutta, Chennai, Hyderabad, New Delhi and Trivandrum.
What is the passing rate of US CMA?
The passing rate has seen a gradual increase in the last 7 years for part 1 of the exam. The pass rate for Part 2 of the exam has always been higher than Part 1 but is now at a similar percentage. The average pass rate of the last 4 years for part 1 is 38%, whereas the pass rate for part 1 (2020) was 45%. The average pass rate of the last 4 years for part 2 is 48%, whereas the pass rate for part 2 (2020) was 45%.
Can a science/engineering student pursue CMA?
Yes, any candidate who has cleared their 12th grade is eligible for the CMA exam.