Work as a Cost
Accountant

40% Global Pass rate vs 85% Zell Pass Rate
EMI starting from ₹9,000/month
40% Global Pass rate vs 85% Zell Pass Rate
EMI starting from ₹9,000/month
Certified Management Accountant
•

CMA -Financial Analytics Expert

•

Eligibility – Grade 12 & above

•

Highly credible accounting qualification

•

Jobs available in – 32,000+

•

Salary Range – Upto ₹12 Lac
The US CMA exam syllabus is divided into two parts. The syllabus aims to narrow the gap between financial accounting and business management
…
Each part comprises 500 marks distributed over 100 questions.
read more
•

External Financial Reporting Decisions (15%)

•

Planning, Budgeting and Forecasting (20%)

•

Performance Management (20%)

•

Cost Management (15%)

•

Internal Controls (15%)

•

Technology and Analytics (15%)
•

External Financial Reporting Decisions (15%)

•

Planning, Budgeting and Forecasting (20%)

•

Performance Management (20%)

•

Cost Management (15%)

•

Internal Controls (15%)

•

Technology and Analytics (15%)

Full Time CMA Trainer


Full Time CMA Trainer


Full Time CMA Trainer

Zell – Best CMA Coaching in India
•

CMA Qualified Trainers

•

Learning Management Platform

•

100% Placement Assistance

•

1.5 Lac+ Students Impacted

•

1 : 1 Mentorship Support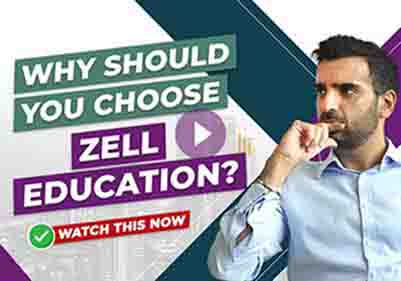 Zell Alumni Work Here, You Could Too
Zell Alumni Works Here, You Could Too
Know More About CMA Certification Course
What is the difference between CMA India and US CMA?
The CMA certifications offered by The Institute of Cost Accountants of India (ICAI) and the Institute of Management Accountants (IMA) differ in their focus and recognition. ICAI's CMA certification caters to the needs of management accountants in India, while the US CMA certification is designed for management accountants in the US and globally. The syllabus and exam content may vary, with ICAI's CMA covering Indian accounting standards and regulations while the US CMA aligns with US GAAP and international accounting standards. The US CMA holds significant global recognition and is valued by employers worldwide, offering international career opportunities. Conversely, ICAI's CMA primarily holds recognition within India. It is important to note that these differences may evolve over time, so referring to the official websites of ICAI and IMA is advisable for the most accurate and up-to-date information.
Is CMA better than CA?
Yes, when it comes to comparison between US CMA and CA, both of these courses are a boon when it comes to careers, just that a few factors are more in favor of US CMA as opposed to CA, such as the fact that US CMA has global recognition in more than 140 countries, such as the US, of course, this being a US-based course, Canada, Australia, Dubai, European countries, Middle Eastern countries, and many more. Us CMA professionals also have the flexibility of choosing a domain in either Accounts or finance, which is not the case when it comes to CA, as it is a course that is completely based on accounting aspects. Various other factors, like a much shorter duration to complete the course, foreign opportunities, competitive packages, and the flexible paper pattern of US CMA, make the course a much better option when compared with CA.
What is the salary of CMA USA?
The average salary of a US CMA can vary depending on factors such as experience, industry, location, and job role, but on average, a US CMA in the United States typically earns an average annual salary ranging from $63,000 to $139,000, which when converted into INR becomes 51,92,012/- to 1,14,55,393/-. The average annual salary offered to a US CMA fresher in India is Rs. 6,00,000.
Is CMA tough than CA?
No, while the whole argument of which course might be the easier one is subjective as it may vary depending on individual strengths and circumstances, various other factors such as passing rates, the entire course curriculum, and the overall duration to complete the course also play a major role in determining how difficult a course might be. When it comes to passing rates, the CA passing rate is approximately 9%, whereas the US CMA passing rate is 50%. Both CA and US CMA are professional courses, but the overall duration to complete these courses is drastic; CA takes approximately 5–6 years to complete the entire course, whereas US CMA only takes 9–12 months to complete the course.
What is the value of CMA certification?
For accounting and finance professionals, the CMA (Certified Management Accountant) qualification offers worthwhile advantages. It improves prospects for career growth because CMAs are given preference for leadership positions and promotions because of their knowledge of management accounting. Due to the CMA designation's widespread acceptance in more than 150 nations, CMAs can take advantage of numerous business opportunities around the world. With an average pay that is 62% higher than that of non-certified accountants, CMAs also have greater earning potential. The CMA certification can be used in a variety of industries due to its adaptability. The worth of the qualification, however, may differ based on a person's unique situation and professional objectives. The CMA certification takes dedication and continual professional growth to pursue and maintain.
How do I pass the CMA US on my first try?
Understanding the CMA (Certified Management Accountant) US exam format and content, developing a study plan with clear objectives and deadlines, studying effectively, utilizing exam prep materials, practicing time management, and remaining motivated and focused are all essential for passing the exam on your first attempt. Your preparation will be more focused if you are aware of the exam structure. You can better manage your study time and track your progress by making a study plan. Utilizing study tools like mock exams and resources provided by your coaching institute to practice is crucial for effective studying. At Zell, we have a passing rate of over 80%, so out of every 100 Zell-enrolled students, 80 pass their US CMA exams on the first attempt itself!
How long does it take to pass the CMA examination?
To pass all sections of the CMA (Certified Management Accountant) exam, it typically takes 6 to 9 months. It takes roughly 150 hours to complete each phase, with an average weekly study time of 8–10 hours. However, the real time needed to pass the exam can vary depending on personal study habits and material knowledge. It's crucial to plan the exam during a window of opportunity that works for you. To effectively study for the exam in the time range that suits you, you must have a well-structured study strategy.
Can I do CMA USA after Bcom?
Yes, it is possible to pursue the CMA USA course after a B.Com. In fact, any student can enroll in the US CMA while pursuing their bachelor's degree and after graduating, making it an excellent option for students wanting to enhance their career opportunities. It only takes six to nine months to complete the CMA, and it is highly regarded globally. Therefore, obtaining a B.Com. degree followed by the CMA can potentially increase job prospects and salary potential globally, especially in roles related to financial management and accounting.
How much does the CMA cost total?
The overall cost of pursuing the US CMA is segregated into 2 parts: the first fee goes directly to the Institute of Management Accountants (IMA), which consists of the registration and examination fees, which are $1292 for students and $1523 for working professionals. Another fee is to be paid to the coaching institute from which the student avails training for the US CMA. At Zell, we have three different types of batches with different features. To get more specific details, connect with one of our US CMA counselors!
Is CMA expensive in India?
Absolutely not; as a matter of fact, US CMA is a lot cheaper when compared with other financial professional courses such as CA, CFA, ACCA, etc. CA being such a boon in India, which takes on average 4–7 years to clear, US CMA takes a maximum of 12 months to complete the entire course and has a similar return on investment as well.
Can I complete CMA in 2 years?
Yes, as a matter of fact, you will need a lot less than 2 years to complete the entire course. On average, it takes 6 to 9 months for students to clear both Part 1 and Part 2, and even for slow-paced learners, it takes a maximum of 12 months to complete the US CMA.
What is CMA syllabus?
The Certified Management Accountant (CMA) syllabus is a comprehensive outline of topics covered in the CMA certification program offered by the Institute of Management Accountants (IMA). The CMA designation is globally recognized and designed to assess candidates' expertise in financial planning, performance analysis, decision support, and professional ethics. The syllabus consists of two parts: Part 1 covers external financial reporting, budgeting, performance management, and analytics. Analysis of financial statements, corporate finance, decision-making, risk management, and investment choices are the main topics of part 2. The CMA exam is computer-based and includes multiple-choice and essay questions. To earn the CMA certification, candidates must pass both parts of the exam. It's essential to refer to the IMA's official website or related resources for the most current and detailed information on the CMA syllabus.
Speak to A CMA Course Expert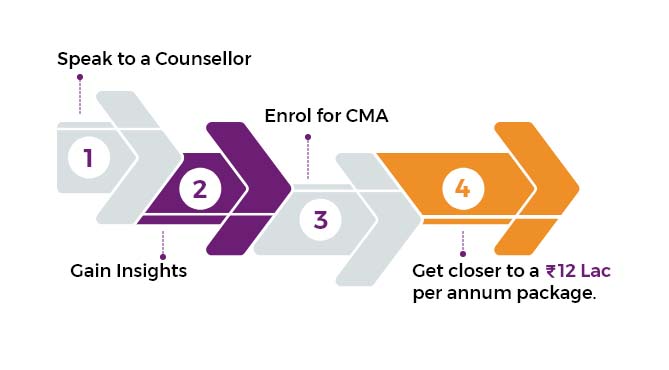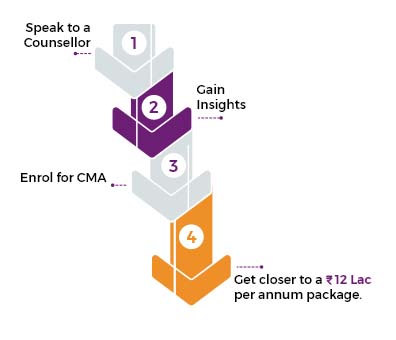 Speak to A CMA Course Expert