Best Investment Banks To Work for in 2023
The primary purpose of investment banking is to raise capital for companies as well as for the government. An investment bank comes into the picture when a company declares an IPO or takes part in acquisition activity. There are many investment banks worldwide, many of which deal with high net-worth entities. This article gives detailed information on investment banking, the role of investment banking companies and the best investment banks to work for in 2023.
What Are the Major Roles of an Investment Bank?
Investment banks are a link between an investor and an enterprise. They advise a company on financial issues like how to raise capital and whether to issue bonds or shares in the market to meet financial needs. Listed below are some of the significant roles of an investment bank:
It helps the company in its wealth management and asset management.

It advises the company on sales, trading, IPOs, mergers and acquisitions.

It can prepare financial models to study whether the company should sell its ownership of a company.

Financial Analysts of an investment bank can estimate the net worth of a share of the company.

It can engage in buying and selling a company's shares to manipulate the firm's valuation.
Earning a CFA certification is a great headstart to starting your career in investment banking. If you want to gain a CFA certification and become a Financial Analyst, check out our blog "CFA Curriculum Changes 2023" to learn about the course.
What Are the Best Investment Banking Companies in 2023?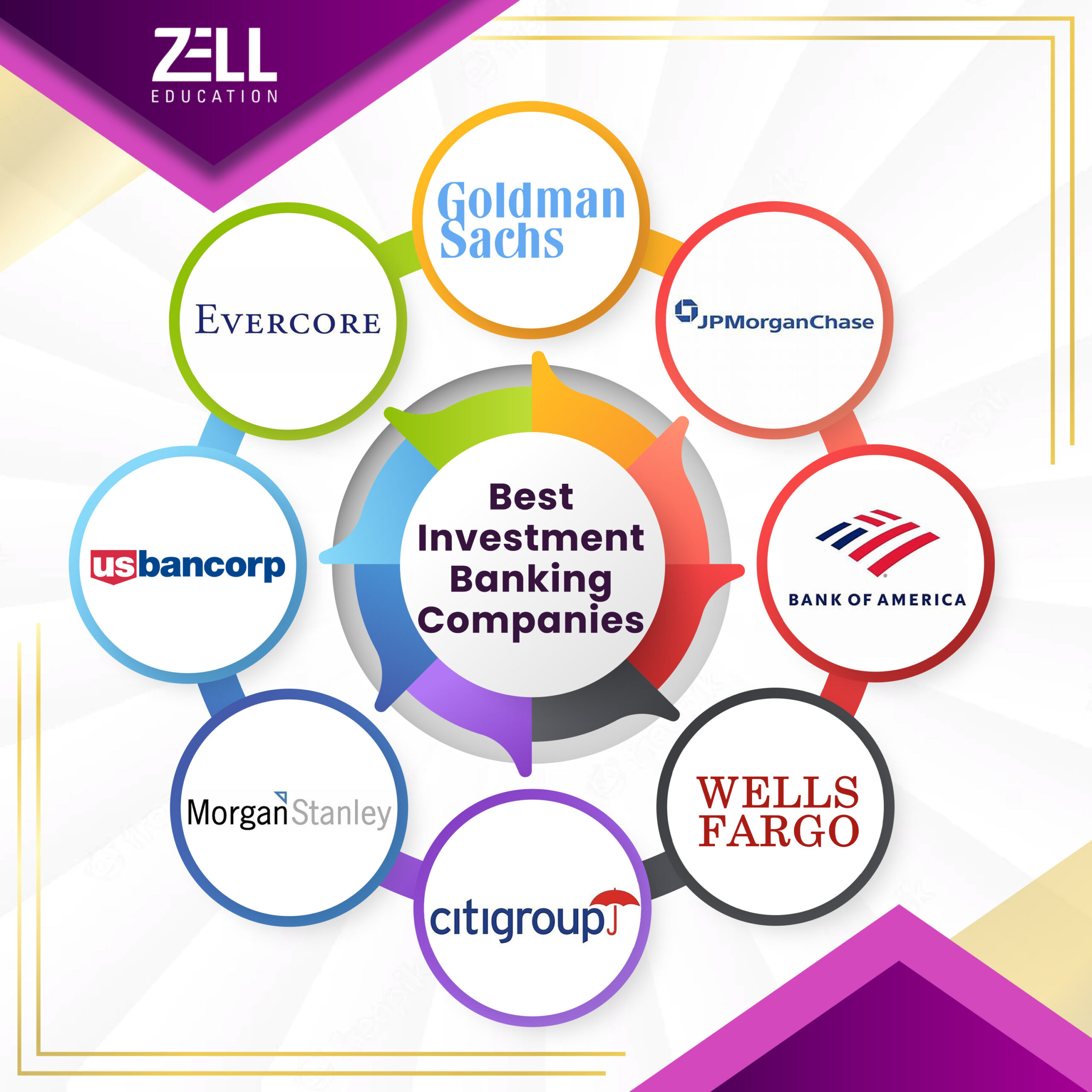 Here's a list of the top investment banking companies you can work for in 2023:
It provides a diverse set of services to some of the most influential financial entities in the world. It provides services like commercial banking and brokerage. With an asset holding of over $500 billion, it is one of the top companies to work for in 2023.
It is a multinational company which was established in December 2000. With an asset holding of around $3.5 trillion and more than 5000 branches in the US alone, it offers multiple financial services like investment banking, retail banking and asset management.
The eighth largest bank in the world, it has over 4000 branches in the US and an asset holding of over $2.5 trillion. Apart from investment banking, it also provides wealth and asset management services.
It is a member of America's Big Four banks and has over 5000 domestic branches. Its asset valuation is $1.8 trillion. It offers financial services, which include investment banking, retail banking, and wealth and asset management.
It is an investment bank with a valuation of $1.7 trillion. It has several subsidiary companies functioning under it, like Citicorp and Citibank.
This investment banking company provides customised financial services to its clients. Services range from advice on acquisitions, joint ventures, exchange offers and raising of funds.
With more than 2000 branches in the US and around $600 billion in asset holdings, it provides detailed information to its clients on the market situation. It helps create a portfolio based on one's choice and preferences.
Established in 2008, Evercore provides financial services to high-net-worth individuals. Its wide range of services includes investment management, strategic wealth planning and family wealth services.
How To Become an Investment Banker?
By now, you must be thinking about how to make a career in investment banking. The steps below give a sneak peek into the eligibility requirements for becoming an Investment Banker:
A bachelor's degree in Economics, an MBA in Finance, or any other related degree may be helpful.

You should possess the knowledge of preparing and working with financial models.

You should have networking and communication skills.

You should possess excellent market analysis and research knowledge and proficiency in working with MS Excel.
Is Investment Banking Rewarding Financially?
Investment banking is one of the highest-paid careers in the world. While the investment banking salary usually ranges between INR 6-8 LPA, it may go up to INR 15-30 LPA as the years of experience increase. ICICI Securities, HDFC Bank, Axis Bank and Morgan Stanley are some of India's highest-paying investment banking companies.
Conclusion
You must equip yourself with the necessary skills and knowledge to bag investment banking jobs and make a successful career in investment banking. With expertise, you can expect to land a rewarding job in one of the top investment banking companies. Zell Education provides a CFA certificate course, a 3-level programme designed to teach you all about finance and investments. You can also pursue CMA certification to gain knowledge in finance, accounting and business.
1. Which investment bank offers the highest salary?
Some of the highest-paying investment banks are JPMorgan Chase, Morgan Stanley and Goldman Sachs.
2. What is a tier 1 investment bank?
A tier 1 investment bank has massive financial strength. The four major banks of the US, namely JPMorgan, Bank of America, Wells Fargo and Citigroup, are the tier 1 banks in terms of their valuation, asset holding, revenue and net income.
3. Is investment banking a good career option?
Investment Banking salaries are among the highest considering various professions, and Investment Bankers have high demand worldwide. So it is a good career option.
4. What is the starting salary of Investment Bankers?
On average, the annual salary of an Investment Banker is about $1,17,626.