US CMA Live Online Classes – The Future of US CMA Education
The US CMA Certification is a globally recognized certification in management accounting that enables professionals to advance their careers and increase their earning potential. With the demand for CMA professionals on the rise, the need for quality US CMA education has become more crucial than ever before. In recent years, the popularity of live online classes has grown significantly as students prefer the flexibility and convenience that these classes offer. In this blog post, we will explore the benefits of live online US CMA classes and CMA course details.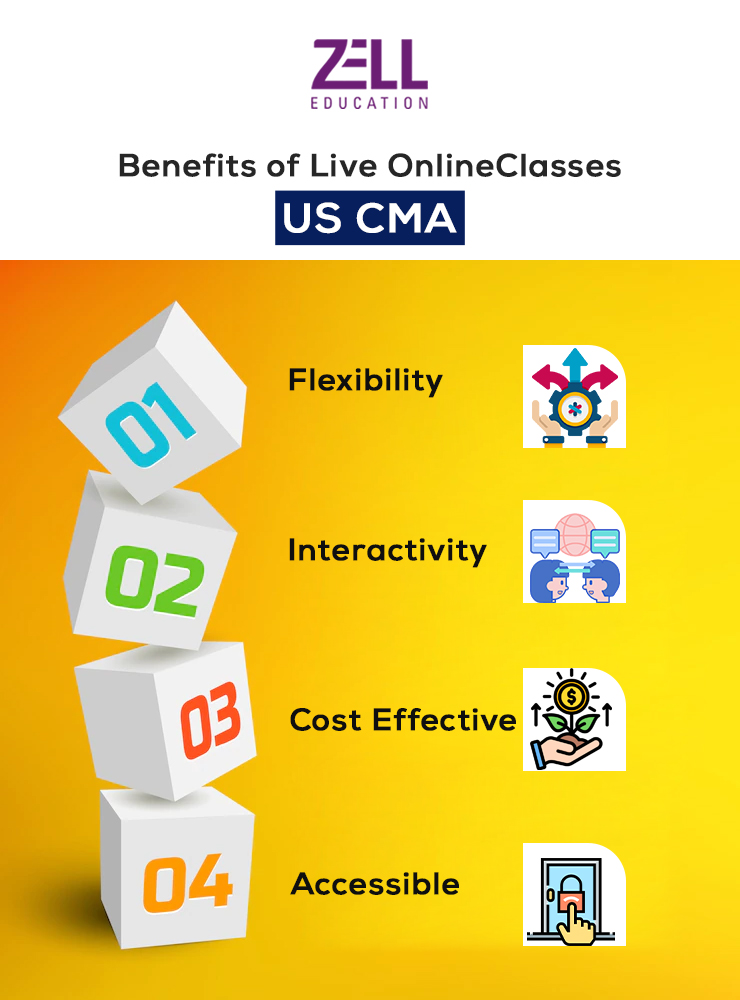 Benefits of Live OnlineClasses US CMA:
Flexibility: Live online classes allow students to attend lectures and classes at their convenience, without the need to travel to a physical location. This flexibility is particularly useful for working professionals who want to advance their careers while maintaining their work commitments.
Interactivity: Live online classes offer the opportunity to interact with instructors and fellow students, creating a more engaging and collaborative learning experience. This interaction is crucial for understanding complex concepts and receiving immediate feedback.
Cost-Effective: Live online classes are generally more cost-effective than traditional classroom-based courses. Students save money on transportation costs and can access course materials online, reducing the need for textbooks and other physical materials.
Accessible: Live online classes are accessible to students from all over the world, enabling them to access high-quality US CMA education regardless of their location. This accessibility has opened up opportunities for students who may not have otherwise been able to pursue the US CMA certification.
CMA Course Details:
The US CMA certification is a two-part exam that covers the following areas:
Part 1: Financial Planning, Performance, and Analytics
External Financial Reporting Decisions

Planning, Budgeting, and Forecasting

Performance Management

Cost Management

Internal Controls
Part 2: Strategic Financial Management
Financial Statement Analysis

Corporate Finance

Decision Analysis

Risk Management

Investment Decisions
You can read more about the course details in our blog here- What is CMA? Course Details, Duration, Syllabus, Fees, and Eligibility
Live online US CMA classes cover these topics in detail and provide students with a comprehensive understanding of the material. Instructors use a variety of teaching methods, including lectures, discussions, and case studies, to ensure that students have a solid grasp of the concepts.
In addition to live online classes, students also have access to a range of study materials, including textbooks, practice exams, and online resources. These resources help students prepare for the exam and ensure that they have a strong understanding of the material.
Final Words:
US CMA Live Online Classes are the future of US CMA education. They provide students with the flexibility, interactivity, cost-effectiveness, and accessibility that traditional classroom-based courses do not. With the demand for CMA professionals on the rise, it is essential to invest in high-quality US CMA education that prepares students for the exam and their future careers. Whether you are a working professional or a student, live online US CMA classes offer an excellent opportunity to advance your career and achieve your goals.
At Zell Education, we are happy to provide assistance and support if you're having difficulty choosing a course. Please don't hesitate to reach out to our team for guidance or fill in the form on the right hand side, someone from our team will get in touch with you.