A Simple Step-by-Step Guide to Prepare for Your CFA
Are you planning to appear in the CFA examinations?
If you are studying for the CFA exam, you must understand that the course demands a structured study plan and serious commitment. You must invest more than 350 hours of study while preparing for the Level 1 exam. If your academic background doesn't cover subjects present in the CFA curriculum, you will need more time.
The CFA Level 1 exam is pretty tough to crack. However, do not feel tense or apprehensive if you have registered for the exam. Check out our simple step-by-step guide, which will help your CFA preparations. You can also check out our blog: How Hard is the CFA Exam, to get more clarity on the exam's standards.
How to Prepare for CFA Level 1:
A Step-By-Step Guide
In this step-by-step guide, we will cover all the important aspects which will help you clear CFA Level 1 exams.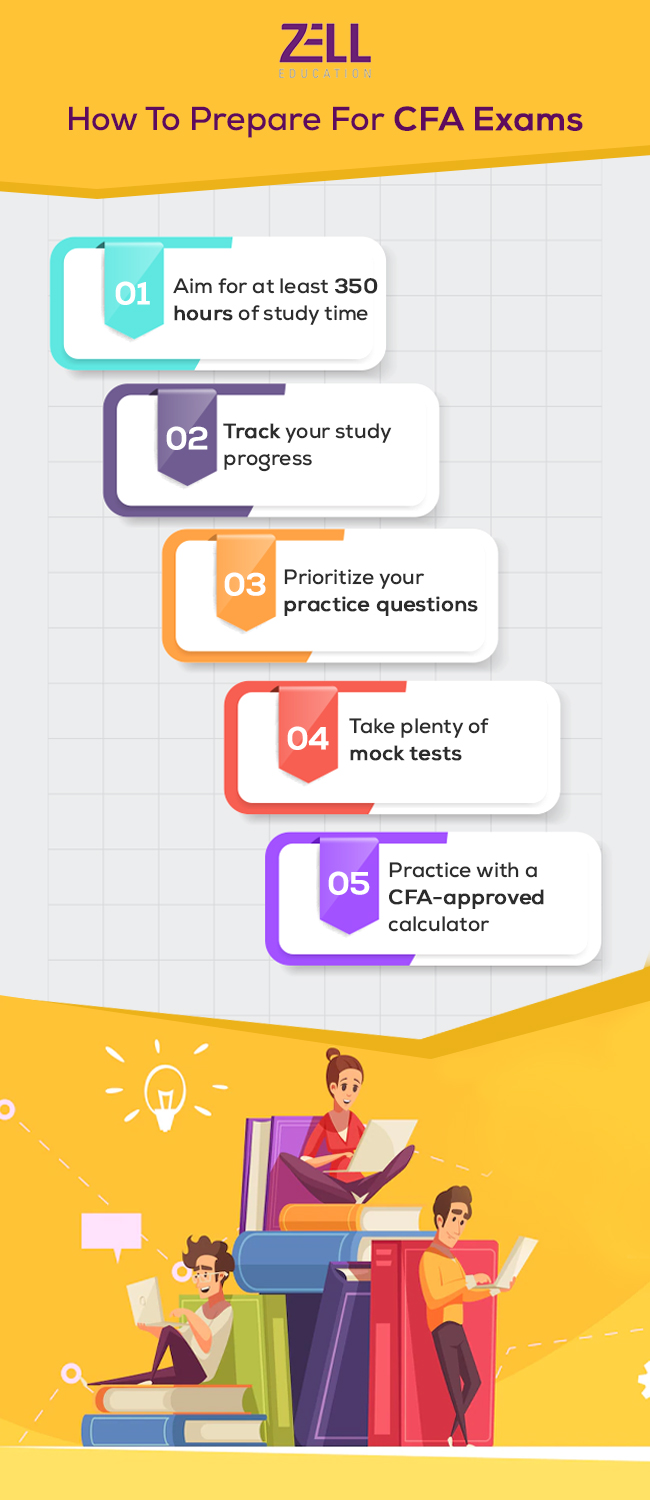 1. Concentrate on the curriculum and identify the topic weights of the CFA Level 1 exam
The first step in preparing for the CFA Level 1 examination is understanding the course curriculum. The Level 1 curriculum covers 10 topics, and each topic has a specific weightage. Moreover, the curriculum undergoes annual updates. Although the core topic areas remain the same in all three levels of the exam, the topic weights vary with each level.
Let us look at the 10 topics covered in the CFA Level 1 exam along with their weight:
Ethical and Professional Standards

: 15-20%

Quantitative Methods

: 8-12%

Economics:

8-12%

Financial Statement Analysis

: 13-17%

Corporate Issuers

: 8-12%

Equity Investments

: 10-12%

Fixed Income

: 10-12%

Derivatives

: 5-8%

Alternative Investments

: 8%

Portfolio Management and Wealth Planning

: 5-8%
If you want to succeed in this exam, ensure that you have a thorough knowledge of the topics mentioned above. Concentrate on the topics which carry more weight, like 'Ethical and Professional Standards', 'Financial Statement Analysis', 'Equity Investments', 'Fixed Income', etc. Allocate time to the topics depending on whether it is your strong or weak area. Weaker areas need more time and attention.
2. How to prepare for CFA Level 1 in one month – Make a Study Plan for the Exam
Clearing the CFA Level 1 exam is a challenge. You must invest considerable effort and time to prepare for the exam. While devising a study plan, you must keep 350 hours of study for the Level 1 exam.
Ideally, you must start studying for the CFA Level 1 exam for a minimum of 6-9 months before the examination date. You might need slightly less time to complete the syllabus only if you have a relevant background which is in sync with the course curriculum.
Customize your study plan to complete the syllabus at your own pace. Various study resources are available, which will help you prepare for the examination.
Check out the 6 Things You Need to Know Before Your CFA Exam for more exam tips.
3. Understand the format of the questions of the CFA Level 1 exam
You can plan your approach better once you understand the question format of the CFA Level 1 exam. You will know how much time to invest in each question and develop a well-directed approach to the paper while writing the exam.
CFA Level 1 examination has multiple-choice questions. There are two sessions in this examination spanning 135 minutes each. The examination covers all the topics from the curriculum. If you wish, you can take a break between the two sessions. However, you must appear for both sessions to qualify for the examination result.
There are 90 multiple-choice questions in the first session of the CFA Level 1 exam. There are questions from topics including 'Ethics and Professional Standards', 'Economics', 'Financial Reporting and Analysis' and 'Quantitative Methods'.
The second session has 90 multiple-choice questions. The questions in this session are from topics like 'Portfolio Management', 'Derivatives', 'Fixed Income', 'Corporate Finance' and 'Alternative Investments'.
Each multiple-choice problem has a question, a table, a statement and three choices of answers. You must complete a sentence from the three answer choices or answer questions directly from the answer options given.
Once you understand the question format and get the hang of it, you can decipher the topics with comparative ease.
4. Take Mock Exams and practice using sample question papers
Starting in 2022, CFA exams have become computer-based. Level 1 exams are held in February, May, August and November. Four to six weeks before the examination date is the ideal time to begin taking mock exams and practice sample question papers.
Taking mock exams is mandatory if you want to do well in CFA Level 1 exam. This is an integral part of how to prepare for CFA Level 1. Make sure you simulate an exam ambience at home while taking the mock test. Follow the clock and ensure that you act as if in a real examination hall. There are two 135-minute (2.25 hours) sessions with an optional break in between.
The mock exam prepares you physically, mentally and practically for the CFA Level 1 exam. Taking the mock exams and solving sample question papers helps identify and work on knowledge gaps if any. After the performance review, learn from your errors and evade them during the real exam.
CFA charter holders agree that they have invested the last month of their exam preparation in solving sample questions and taking mock tests. Even if you think you are thoroughly prepared, don't miss this step in CFA Level 1 exam preparation.
Looking for the best CFA books in the market? Get the list of Best Books for CFA: Which Books Should You Refer for details.
Conclusion
This comprehensive step-by-step guide shows how to prepare for CFA Level 1 exam. Although many people ask how to prepare for CFA level 1 in one month, this is practically impossible.
Preparing well for this exam takes almost 6-9 months as the curriculum covers many critical topics. You must thoroughly understand these topics to excel in this exam and go on to the next level.
CFA is challenging, and many students are disillusioned by the exam's pass rate. However, the difficulty level of the CFA exams shouldn't come in the way of your success with dedication, hard work, careful planning, and proper execution of knowledge.
Zell Education offers globally-recognised certification in CFA with both offline and online classes. The course duration is 2 to 3 years. CFA is divided into three levels, with Level 1 being the most difficult. World-class faculty, personalised study plans, student mentorship and Zell-curated notes are the main highlights of the course.
Visit Zell Education to learn more.
Can I prepare for CFA myself?
Yes, you can prepare for CFA on your own. But, most CFA charter holders and members suggest that seeking assistance from a CFA expert is a good idea as the curriculum is also vast and tough. You can also enrol in online or offline CFA courses.
How long does it take to prepare for CFA?
The ideal preparation time for CFA is 6-9 months. You will need almost 300+ hours of study to clear the Level 1 exam.
Is three months enough for CFA Level 1?
Three months is not enough to prepare for CFA Level 1 exam. You will not get enough time to cover all the topics and attempt mock tests and sample question papers in this short period. However, if you work hard and invest ample time daily in the course, you can make things work.
Is seven months enough for CFA Level 1?
Yes, seven months is enough time for CFA Level 1 exam preparations. Along with completing the curriculum thoroughly, you will have ample time for mock tests and sample questions to make yourself exam ready.