Top 5 Tips on how to get a Job in the Big 4
It is a dream come true for any accounting professional to land a job at any Big 4 accounting firm – Ernst & Young (EY), Deloitte, Pricewaterhouse Coopers (PwC), and KPMG. Statistics reflect that Deloitte had 345,370 employees in 2021, followed by EY with 312,250 employees, PwC with 295,371 employees, and KPMG with 236,000 employees. If you aspire to be part of this workforce, you must check out these practical tips on how to get a job in Big 4 companies.
Why the Big 4?
The Big 4 firms operate in various segments, including advisory/consulting services, audit/ assurance/audit and enterprise risk (AERS) services, taxation services, and so on. The revenue figures of the Big 4 companies will inspire candidates to be a part of such global organisations. In 2021 the combined revenue from the firms stood at USD 167.2 billion. Besides, working at the Big 4 can give a solid headstart to your career, establishing your expertise and knowledge on the global stage.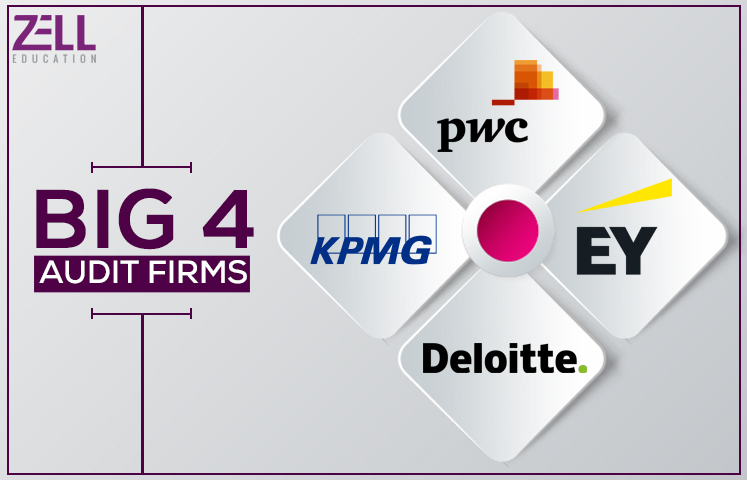 5 Tips for landing a job in Big 4 firms
Getting into a Big 4 firm is not as easy as it seems. Candidates must undergo rigorous interviews and test sessions before landing a job at these prestigious organisations.
Let us take a look at some practical tips which help in getting a job in Big 4 companies:
1. Focus on your resume
The first step of hiring begins with your resume. Big 4 companies are highly selective when it comes to hiring new candidates. Unless your resume is stellar and stands out from others, you will not get an interview call from the Big 4 firms.
Make your resume concise with proper formatting and attach a well-written cover letter. Make sure you use professional email templates for correspondence with recruitment officers from the firms.
2. Make the most of fall recruitment
Fall recruitments on college campuses are vital for candidates aiming to join the Big 4 firms. All the Big 4 companies show interest in these events for recruiting new employees and fresh interns. September to October is the fall recruitment period. Candidates should remain focused and prepared to make the most of this opportunity.
Many colleges arrange job fairs during the fall. Representatives from the Big 4 companies are often present at these fairs looking for promising candidates to work for their organisation. You might be lucky to grab a valuable opportunity here.
3. Choose a specialisation area
Recruiters of Big 4 companies are quick with their interviews. Expect them to keep the conversation short and cut to the chase while interviewing candidates. They usually question the candidate on professional interests and career goals, and having an area of specialisation helps in such a situation.
Some prominent specialisation areas include auditing, technology, consulting, tax accounting, assurance, advisory, and so on.
4. Clear the CPA examination
Many accountants keep the CPA examination for their future career development plans. But if you are targeting Big 4 entry-level jobs or other professional roles in these companies, it is a wise move to clear the CPA examination beforehand. Passing this examination will make you a Certified Public Accountant – a reputed and respectable designation in accounting firms.
The CPA examination is not only challenging but time-intensive. If you seek a job in the Big 4, clearing the CPA examination will give you an edge over the thousands of others competing for the same position.
5. Grab an early internship
If you are lucky to grab an internship with any Big 4 company, you have a high chance of employment in a Big 4 accounting firm. But remember that you might get very little or no pay for huge volumes of work during the internship.
However, during the internship, you will have hands-on experience with how the company functions. You will also get thorough knowledge on things which will help you get a full-time job opportunity at the company. The internship will be a step towards your goal of gaining employment in a Big 4 accounting firm.
Conclusion
The tips we discussed here will guide you on how to get a job in Big 4 accounting firms. Getting a job with the Big 4 companies is difficult, but it is not impossible. Enrolling in Association of Chartered Certified Accountants (ACCA) and Chartered Financial Analyst (CFA) programmes with a reputed institute or college and getting a minimum 3.0 GPA provides a solid foundation.
Zell Education offers ACCA and CFA programmes for interested accountants.
The UK-based ACCA programme can help candidates take up accounting jobs worldwide. ACCAs have commendable skill sets and are a favourite with the Big 4.
With global accreditation and acceptance, CFA is one of the most sought-after international qualifications in finance. There are three levels in the course, and candidates must acquire the qualifying marks at each level to progress to the next.
Visit Zell Education today to learn more about these programmes.
Are Big 4 jobs hard to get?
Getting a job in Big 4 companies can be challenging, but it is not impossible. Candidates must have the right experience, networking and preparation to increase their chances of getting a job at these companies.
How do you get selected in the Big 4?
The Big 4 companies conduct several rounds of interviews and tests for hiring candidates. After an initial HR round, there is a first technical round followed by a partner/director round. The final HR round follows if candidates clear the previous rounds successfully.
What is the salary in Big Four?
The salary of freshers in the Big 4 companies ranges from USD40,000 to USD60,000 per annum. The salaries keep increasing for senior positions like senior associate, manager, senior manager, and so on.
What do Big 4 recruiters look for?
Big 4 recruiters look for team players with excellent communication skills and business acumen. They should also be proficient in various aspects of accounting.