CFA Salary in Dubai 2023: What You Should Know
A career in corporate finance, investment banking, capital markets, or equities research requires a CFA or Chartered Financial Analyst qualification, the industry's gold standard. CFA is a financial and investment management programme accredited and recognised internationally. A CFA certification helps professionals land prestigious finance positions in top companies worldwide.
Here is a thorough guide to assist you in making the best choice if you are wondering about a fresh CFA salary in Dubai.
Salary and Career Growth as a CFA in Dubai
Dubai is a sought-after destination for professionals looking for employment opportunities overseas. Tax exemptions, extensive worldwide exposure, employee-friendly work culture and attractive compensation packages are the primary factors making Dubai an obvious choice.
You can anticipate earning an average of AED 199k per annum (Rs.4405400.31), which is in the higher range of the pay scale for a Senior Chartered Financial Analyst's salary in Dubai. Moreover, this gross pay is approximately 3-4% more than the UAE average.
According to projections, the anticipated salary hike over the next five years could range from 20-25%. However, the candidate's qualifications, experience, company, and other factors also impact remuneration and career advancement.
To know more about salary expectations, read CFA Level 1 Expected Salary: For Freshers & Experienced Professionals
Does Dubai Provide Secure Employment to CFAs?
Several companies in Dubai look abroad for people that meet their hiring criteria.
According to a cursory search of any employment portal serving the Dubai market, the majority of roles accessible for financial professionals are found in investment, banking, stock, portfolio and fund management, and credit research. Individuals with a CFA certification qualify for positions in all these fields.
You don't have to worry about job stability or career progress because top companies favour CFAs. Deutsche Bank, Standard Chartered, Marriott International Inc. and Moody's, among others, are organisations hiring CFAs in Dubai. Finance jobs are highly sought-after in Dubai, and the diversity of job profiles can give you the assurance you need.
Furthermore, you may position yourself as a valuable resource by continuing to boost the value of your resume, develop your talents, and focus on your subject knowledge.
Companies in Dubai that are primarily looking for CFAs include:
Investment companies

Private client management companies

Investment banking and brokers

Consulting firms

Regulatory agencies

Mutual funds and asset management firms

Banks

Corporates and accounting firms
Companies and businesses in Dubai are rapidly growing and expanding each day. As a result, they are more and more in need of CFAs. The CFA salary in Dubai per month is skyrocketing. CFA salary in Dubai in 2023 is expected to increase even more compared to the previous years' because of incremental trading as well as structural and financial development.
Check out our blog, Is CFA Course Worth it? Top 7 Benefits of doing a CFA to learn more about CFA career prospects.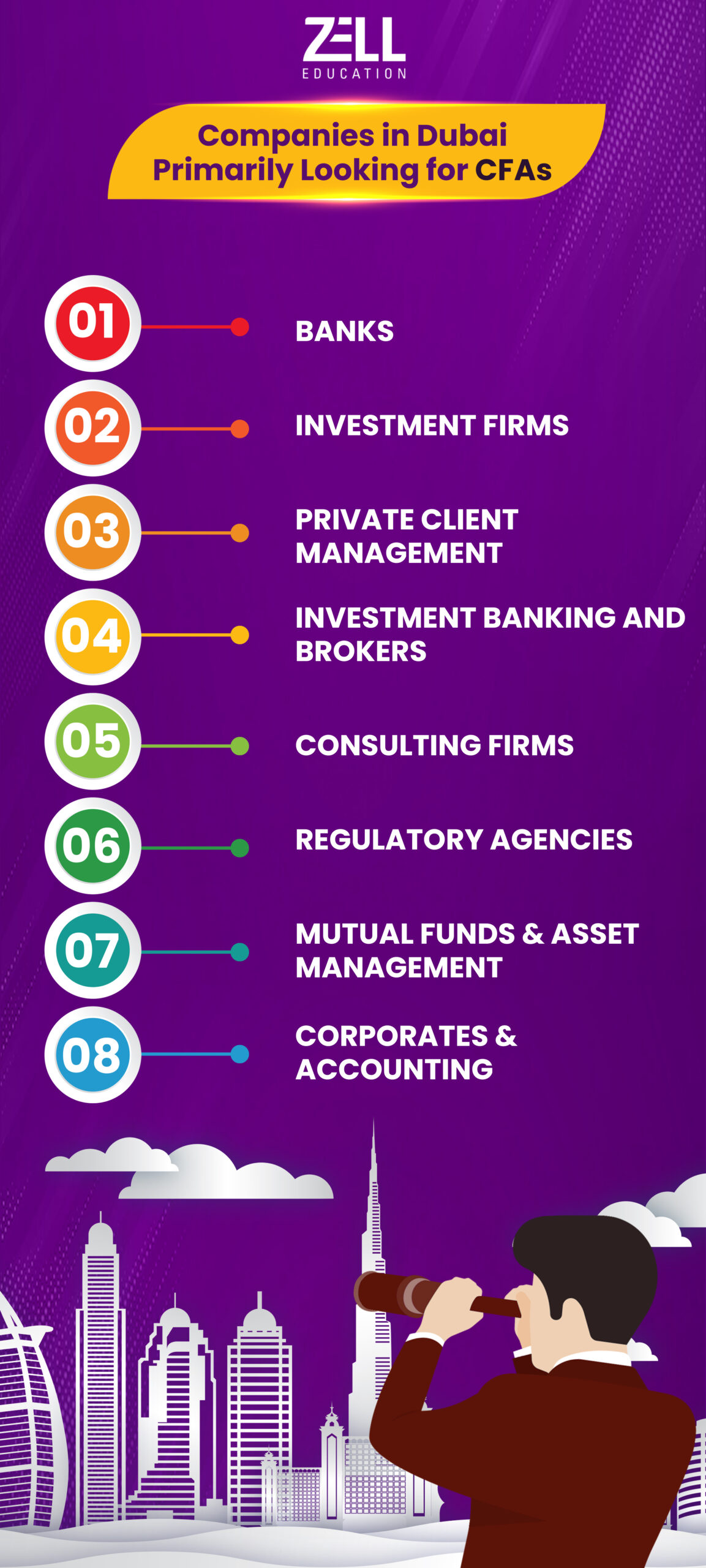 A Career in Dubai After CFA
Here is a list of job profiles that individuals with a CFA qualification are eligible for:
Risk Managers: Risk Managers are key professionals in the banking, corporate finance, and investment sectors. Credit, liquidity, investment, market, and other concepts are included in the broad concept of risk management. Due to its expanding economy, Dubai has a pressing need for risk analysts and managers. Companies in Dubai that are opening up newer operations pay close attention to diversification and penetrating different markets. They require Risk Managers who can analyse markets, predict future developments, and mitigate hazards. They earn an average of AED 112,500 (Rs. 2535177.55).
Investment Strategist: Professionals in investment banking assist organisations with capital raising and mergers and acquisitions. A certified Investment Strategist can help new businesses, established manufacturing and construction firms, and governments. Due to its rapidly expanding and open financial sector, Dubai is the ideal location for an Investment Strategist. On average, Investment Strategists in Dubai make AED 220,000 (Rs. 4957680.53).
Senior Financial Analyst: A fund or a collection of funds might be under your management as a Senior Financial Analyst in Dubai. Since Dubai is a developing market, there is a high demand for professionals who can collaborate with analysts, clients, and researchers and has first-hand knowledge of the industry. They bring home AED 263,956 (Rs. 5948225.11) on average.
Investment Manager: Dubai offers one of the best opportunities for CFAs to work as Investment Managers. The city has a high concentration of high-net-worth professionals and those who require help with financial management and investment planning. The need for specialists with an understanding of the financial markets, investing skills, portfolio management, and estate planning is driving the demand for Investment Managers. Their average remuneration in Dubai is around AED 440,000 (Rs. 9915361.07).
Private Banker: Private Bankers manage money and supervise financial activity for high net-worth clientele. In addition to personal cash management, secured and unsecured credit and investment management, and interest services, they also offer banking services. They get an average of AED 550,000 (Rs. 12394201.34) in Dubai.
To know more, read 8 Highest Paying Jobs in Finance.
Conclusion
Pursuing a CFA course is a calculated move. The CFA programme lasts for around 2-3 years, and individuals can complete it while working. The financial and investment industry offers several profitable employment paths after completion of the course.
Zell Education offers the CFA course with a personalised study schedule, CFA-certified faculty, student mentoring, and many other benefits. The course's main highlights include its 80% passing rate, access to curated notes, and Zell's Learning Management System.
How much does a CFA earn in Dubai?
CFA is a lucrative job providing high salaries to individuals. A CFA in Dubai brings home an average of AED 98,264 (Rs. 2213623.81).
Is CFA good in Dubai?
As a CFA, Dubai will present you with the best opportunities to work when compared to other cities around the world. This location is teeming with high-net-worth individuals and people needing assistance with money management and investment planning.
Is there a demand for CFA in Dubai?
Dubai's businesses need qualified and certified CFAs. A CFA supports companies, wealthy investors, start-up businesses, multinational corporations, and entrepreneurs by helping them concentrate on asset appraisal, investment instruments, financial planning and management, and portfolio management.
Which country gives the highest CFA salary?
According to current reports, Singapore offers CFA charter holders one of the highest salaries. The average is $70,000 per annum, which is roughly AED 190331.96 (Rs. 4288522.50).