ACCA Coaching Classes in UAE: Certification & Training Fees
The United Arab Emirates(UAE) is one of the most popular countries in the Middle East and is majorly known for the opportunities it offers to professionals living in different parts of the world. UAE is not only a great place to work in, but also a great place to settle in due to the exciting lifestyle, resources and amenities that this land brings to its people. Since the UAE is an economically prosperous country, the companies out there often require skilled financial professionals to take care of their cash flows, financial decisions and accounting.
If you are a finance student looking to build a successful career, becoming an ACCA in UAE could be the best decision you'll ever make. The local and international firms hire ACCAs in UAE on a large scale every year. While many industries and professions met their doom after the pandemic, the field of finance was only one picking up pace and growing exponentially. If you wish to enter this most sought after field, choose a country that ensures overall growth with a high salary, and by that, we mean pursuing ACCA in UAE.
Looking for some of the best coaching institutes for ACCA in UAE? Here's a list of the top classes to ease your search.
1. Zell Education
A platinum approved learning partner for the Association of Chartered Certified Accountants (ACCA), Zell Education is known for providing a practical learning experience. This new age platform brings students industry-relevant case studies along with gamified notes for added interactivity. The students can also benefit from course delivery by expert faculty members and the dedicated mentorship offered by Zell's in-house team. Zell offers online training batches for ACCA students in UAE and helps with placement assistance after the successful completion of the course.
ACCA Course Details
Syllabus:
1. Knowledge Level
Accountant in Business (AB)

Management Accounting (MA)

Financial Accounting (FA)
Skill Level
Corporate and Business Law (LW)

Performance Management (PM)

Taxation (TX)

Financial Reporting (FR)

Audit and Assurance (AA)

Financial Management (FM)
Professional Level
Essential

Strategic Business Reporting (SBR)

Strategic Business Leader (SBL)

Optional (2 of 4)

Advanced Financial Management (AFM)

Advanced Performance Management (APM)

Advanced Taxation (ATX)

Advanced Audit and Assurance (AAA)
ACCA Exemptions Waivers:
Due to Zell's Platinum ALP status, you are entitled to exemption waivers of
Subjects: ₹1,00,000
Registration: ₹8,000
Subscription: £112
Zell Education's Coaching Fee Structure: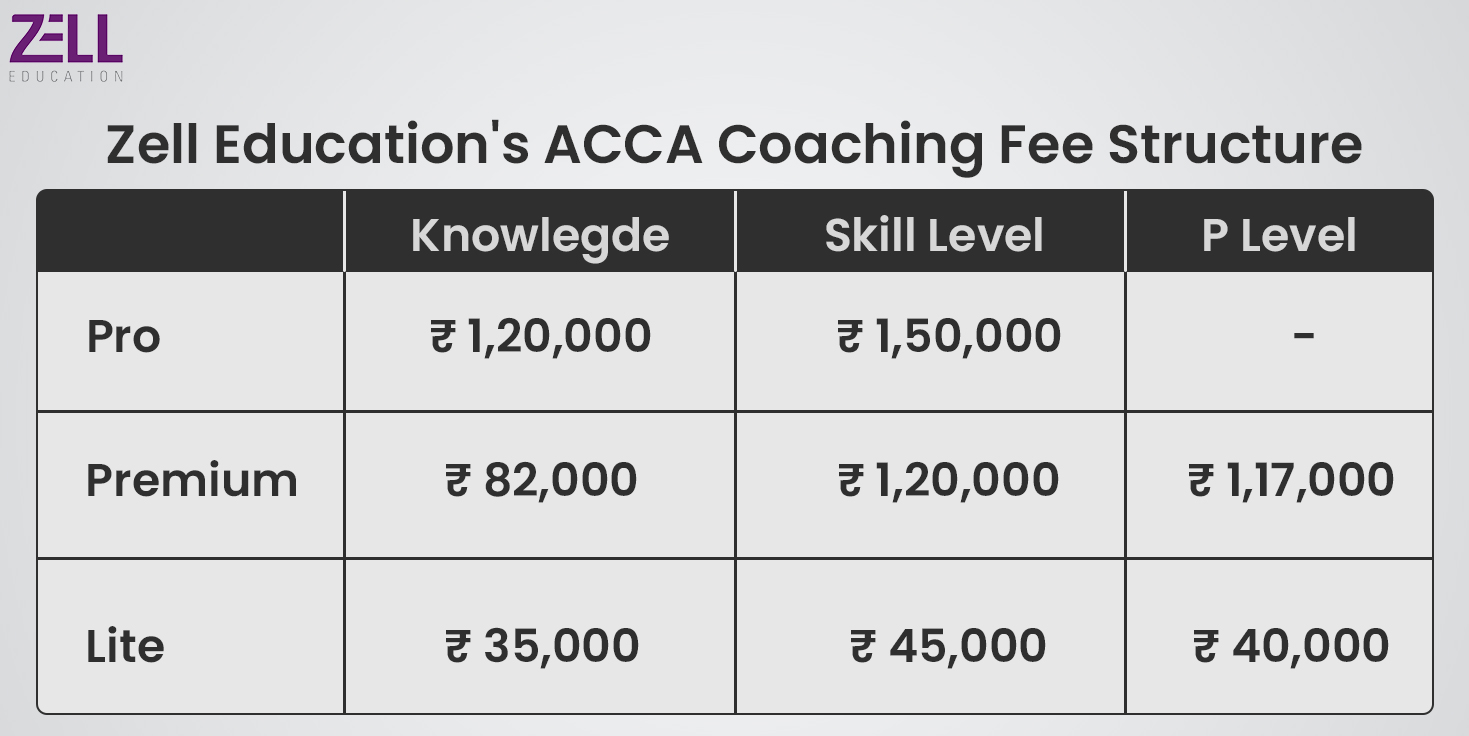 Our Expert Faculty




Contact details: You can reach out to the experts at Zell Education through this number +91 90046 92555.
Head office address: 602, Eco Space IT Park New Nagardas Road Mogra Village, Mogra Pada, Natwar Nagar, Jogeshwari East, Maharashtra
2. Edudelphi
Edudelphi is an online learning provider that offers courses in the field of Accounting, Finance, Cyber Security and Digital Marketing. Edudelphi's online ACCA class features live instructor-led sessions, flexible batch timings, study materials and certified professional trainers. They also offer placement assistance to their students.
Head office address: Aurora Waterfront, Unit# 18, 7th Floor, Plot# 34/1, GN Block, Sector-5, Salt Lake, Kolkata, West Bengal, India- 700091
3. Minds Training Centre
Based in Sharjah, this coaching institute is known for the interactive training and study resources that it offers. In order to prepare students for all 13 papers, the Minds Training Centre offers mock exams, helpful articles, study guides and practice tests. The faculty members teaching this course are qualified ACCA professionals with 10+ years of working experience.
Head office address: Al Marija Street, off Al Arouba Street, Next To Sntta Building, Near Main Bus – Sharjah – United Arab Emirates
4. Apex Professional Training Institute
This professional training institute is based in Dubai as well as Abu Dhabi. Apex Professional Training Institute offers weekend as well as weekday batches for added learning convenience. Executive professionals can also fast track their ACCA in UAE with the help of flexible training batches and continuous support.
Head office address: 3rd Floor, Block 12, Dubai International Academic City, Dubai – United Arab Emirates.
5. Skyline University College
This university based in Sharjah provides a range of IT, management and finance courses and is especially known for its ACCA in UAE. The campus of SUC is located in the University of Sharjah. The students not only get to develop their knowledge base through cutting-edge training but also get to develop their overall skills.
Head office address: University City Rd, Industrial Area, University City, Sharjah, United Arab Emirates.

The ACCA qualification is recognized in over 180 countries including Canada, Singapore, and Australia. If you've made the decision to become a global CA and are contemplating your next move, we can help you take a step forward. Check out our Association of Chartered Certified Accountants (ACCA) course to learn more.